Characteristics and economic importance of Liliaceae (Lily family)
June 3, 2018
1. Diagnostic features
Mostly perennial herbs, small shrubs or sometimes climbers.
Stem usually modified into bulbs, corms or rhizomes.
Leaves radical or cauline, alternate or whorled.
Inflorescence racemose, borne on long leafless scape.
Flower small, bracteates bisexual, actinomorphic, hypogynous, trimerous.
Tepal-6 in two whorls.
Stamens 6 in two whorls, polyandrous, epipetalous.
Gynoecium tricarpellary, syncarpous, trilocular, ovary superior, ovules numerous.
Placentation axile.
Fruit usually a capsule or sometimes berry.
2. Distribution
Cosmopolitan distribution.
Mostly in warm temperate and tropical regions of the world.
3. Vegetative characters
a) Habit
Mostly perennial herbs, rarely shrubs and trees (Dracaena, Yucca).
The herbaceous members perenneate with the help of bulb (Allium), rhizome (Polygonatum) or corms (Colchicum).
Some species grow growing in xerophytic conditions are Aloe, Agave,Yucca, etc.
b) Root
Adventitious root system.
Sometimes thickened a tuberous to store food (Asparagus).
c) Stem
May be aerial or underground.
Aerial stems are erect or climbing (Gloriosa, Smilax), branched- branches modified  into needle-like cladodes in Asparagus.
Underground stem is modified into bulb (Allium), rhizome (Polygonatum), or corm (Colchicum).
In some cases the stem shows secondary growth and become woody in Aloe, Yucca, Dracaena.
d) Leaves
Radical or cauline and ramal in Dracaena.
Simple, exstipulate or stipulate, usually alternate, sometimes opposite (Scolypous) or whorled (Trillium).
Usually sessile with sheathing leaf base.
Venation parallel while reticulate in Smilax and Paris.
The leaves are thick and succulent with spiny apex and margin (Aloe), scale like in Asparagus and Ruscus.
The leaf tips are modified into tendrils in Gloriosa.
Leaves are cylindrical in Allium.
Only two leaves are present in Erythronium.
Leaves are absent in Bowiea.
Image source: braincart
4. Floral characters
a) Inflorescence
Usually racemose- simple raceme (Aloe), terminal panicle (Yucca), umbel, spadix (Rhodea).
Sometimes solitary terminal (Tulipa), solitary axillary (Gloriosa), condensed cyme (Allium), borne on a long leafless scape.
b) Flowers
Bracteate, complete, bisexual or rarely unisexual.
Actinomorphic, sometimes zygomorphic (Howarthia), trimerous, rarely dimerous (Mainthemum), tetramerous (Aspidistra), hypogynous.
c) Perianth
Tepals-6, in two whorls (3+3).
Usually gamopetalous or polypetalous (Lilium), rarely 8 (4+4) in Paris or 4 (2+2) in Mainthemum.
Perianth tubular or campanulate (Aloe), bilabiate in Howarthia, usually petaloid.
Sometimes sepaloid or differentiated into calyx and corolla (Trillium).
Aestivation valvate or imbricate.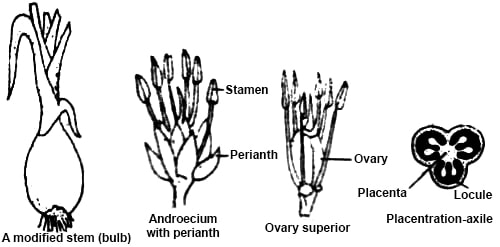 Image source: qsstudy
d) Androecium
Stamens usually 6 in two whorls (3+3), rarely 4 in Mainthemum, 3 in Ruscus, 8 in Paris or 9-12 in Tofieldia.
polyandrous or rarely monadelphous (Ruscus), usually opposite to the tepals, epitepalous.
Anthers 2-celled, basifixed or versatile, dehiscing by longitudinall slits or rarely by a terminal pore.
The filaments are very short (Ophopgon), filiform i.e thread like in Asphodeelus, anthers extrose or introse.
e) Gynoecium
Usually tri-carpellary, syncarpous.
Rarely 2 in Mainthemum, trilocular with many ovules in each locule.
Placentation axile, ovary superior.
Style simple and stigma trilobed.
f) Fruit
Usually a capsule (Aloe, Gloriosa) or a berry (Asparagus).
g) Seed
Endospermic, embryo small.
h) General floral formula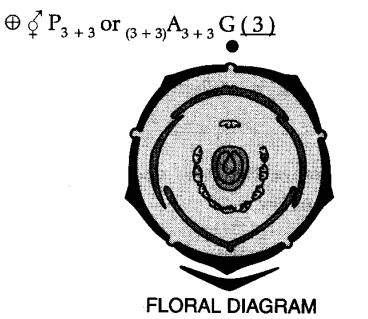 Economic importance
i) Food
Allium cepa (onion), A. sativum (garlic), young fleshy shoots of Asparagus officinalis and tuberous roots of A. racemosus are used as vegetable.
ii) Medicine
'Aloin ' is obtained from Aloe africana and A. barbedensis (Ghiukumari) used as laxative.
The bulblets of garlic are used as antiseptic.
Leaves of Aloe vera provide mucilaginous liquid used in piles and inflammation.
Raw Allium cepa is used as in constipation, diarrhoea and cholera.
iii) Flavours
Bulbs of Allium cepa and A. sativum and the roots of various species of Smilax are used as flavouring agents.
iv) Chemicals
Colchicine is obtained from Colchicum luteum, which is used to induce polyploidy.
v) Resin
Dracaena provides a resinous juice, the dragon's blood (D. cinnabari) is used in varnished and dyes.
The leaves of Xanthorrhoea provide an acrid resin, which is used for making sealing wax, spirit, varnishes for coating metals.
vi) Fibres
Phormium Texan (Flax), Yucca filamentosa (ketuke), Smilax glabra give excellent fibres.
These fibres are used for cordage, fishing nets, mattings, twines , etc.
vii) Ornamental plants
Asparagus, Agapanthus africanus, Gloriosa superba, Lilium candidum, Ruscus aculeatus, etc are well known garden plants.
References: 
i) https://www.biologydiscussion.com/botany/monocotyledons/liliaceae-characters-distribution-and-types/48562
ii) https://www.first-learn.com/liliaceae-family-plants.html
Characteristics and economic importance of Liliaceae (Lily family)