Components of polymerase chain reaction
July 12, 2018
There are various components of PCR for conducting this process.
They are DNA template, primers, Taq polymerase, deoxyribonucleoside triphosphates, PCR buffer, dimethyl sulfoxide and thermocycler.
1. DNA template
It contains the region of the DNA fragment to be amplified by the PCR process.
Successful amplification of the region of interest is dependent upon the amount and quantity of the template DNA.
2. Primers
First we should know the nucleotide sequence of target DNA and also of short segment on each side of target DNA for primer construction.
Such sequence are called flanking sequences of interest.
Flanking sequences are then used to construct two single stranded oligonucleotides primers (25-35 bp long) complementary to the flanking sequences.
Such synthetic oligonucleotides function as primer in the PCR reactions and the 3'- OH end of each primer point towards target sequence.
In short, a primer is a short segment of nucleotides, which is complementary to a section of DNA, which is to be amplified in the PCR.
Primers are annealed to the denatured DNA template to provide an initiation site for elongation of the new DNA molecule.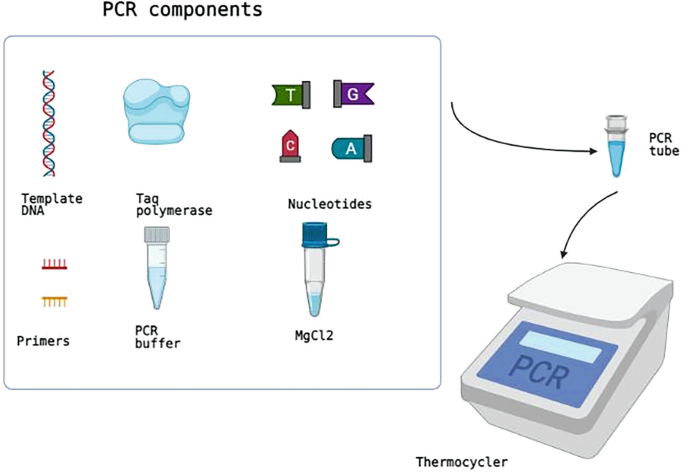 Image source: springer
3. Taq polymerase
Taq polymerase is a heat stable DNA polymerase from the thermophillic bacterium, Thermus acquaticus which adds the deoxynucleotides to the DNA template.
This Taq polymerase enzyme can act or function at 720C.
Heating and cooling steps should be carried out on the same mixture without adding new enzyme.
This allows the procedure to be automated.
4. Deoxy-ribonucleoside triphosphates (dNTPs)
The dNTPS (dATP, dGTP, dCTP, dUTP) provide both energy and nucleotides for the synthesis of DNA.
It is important to add equal amount of PCR mix to prevent mismatches of the bases.
5. PCR buffer
PCR buffer contains Tris, MgCl2 and KCl with pH 8.3.
It keeps the PCR mix at proper pH so that PCR will take place.
Further magnesium is the co-factor for Taq polymerase and affects primer annealing, strand dissociation temperatures, specificity and primer dimmers.
6. Dimethyl sufoxide (DMSO)
If multiple primer sets are used, DMSO is also added to the reaction.
It helps to lower the melting and strand separation temperatures.
It also alleviates some of the de-purination effects at high temperatures, which can results in smears on the gel.
A heated lead is placed on the top of reaction tubes or a layer of oil is put on the surface of the reaction mixture to prevent evaporation of the reaction mixture.
7. Thermocycler
It is a machine that takes PCR mixtures through 20-50 cycles, producing large amounts of synthetic DNA for subsequent analysis.
References: 
i) https://www.thermofisher.com/np/en/home/life-science/cloning/cloning-learning-center/invitrogen-school-of-molecular-biology/pcr-education/pcr-reagents-enzymes/pcr-component-considerations.html
ii) https://www.nature.com/scitable/content/the-various-components-required-for-pcr-include-7690575/
Components of polymerase chain reaction